December 2017
Hello everyone,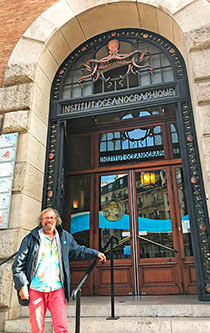 On the road in France...
Little time to write during this lecture tour that sees us zigzagging from city to city in the northern half of France, between the lectures proper and the various interventions on the regional branches of Radio France Bleu, which faithfully accompanies our tour , and a few returns to Paris to load on books, diaries for 2018 (very much sought after!) and DVDs for the autographing sessions which constitute a strong point of these conferences. We still enjoy moments of calm in the lovely places (short term rentals) where we now choose to stay. We particularly enjoyed: a wing of a small castle on the banks of the Loire; a house on the harborside in Port-en-Bessin (in the middle of the season of scallops ... see photo!); a walk among the prehistoric menhir (standing stones) of the moor of Cojoux, near Redon. A farm lost in the middle of the forests of Sologne.
I also had the opportunity to return to Paris to participate, with Fre,nch and Antillean singers Philippe Lavil and Jacob Desvarieux, in an evening organized by the APAJH, Association for Adults and Young Disabled.





And the program to come is just as busy: Saturday 2 and Sunday 3, autographing sessions at Paris? Salon Nautique on Gallimard / Voiles et Voiliers?s stand; Sunday afternoon I will make a quick jaunt to Milan to participate in the show Che fuori tempo che fa (visible on Raiplay)

On Monday, it goes on: back and forth to Saint Quentin for another lecture, and return in the evening for a Connaissance du Monde (Knowledge of the World) event at Paris? Geographical Institute.

During the week, the last six sessions of our tour, in the north of France
December 9, new autograph session at Paris' Boat Show.



On the 11th, Air Tahiti Nui's plane will take me back to Papeete, where I will have to wait until the 15th to take the small plane to Apataki, where Banana Split will have been launched.

And then I will look for a favorable weather window to reach Fakarava, where my son Teiki (pictured here with my daughter Vaimiti) will join me to spend a few days between Christmas and the New Year, until Francette joins me in turn.

In the meantime, I wish you an excellent month of December and a wonderful end-of-year holiday!





Antoine.
---
Previous letter
|
Next letter