April 2019
Hello everyone,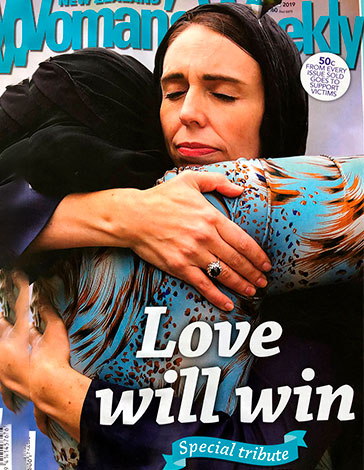 New Zealand: in Wonderland
New Zealand has, alas, been sadly in the news in recent weeks; what sadness for this country of harmony and tolerance, were we can be found at this moment. But the whole world hailed the compassionate and responsive response of Prime Minister Jacinda Ardern: here women were given the right to vote 64 years before most european women, and since 1997, the role of Prime Minister has been held longer by women than by men.



All flags at half-mast, the country has mourned, it is now time to show you again the wonders of beauty and charm of this country, to which we devote several months this year; beginning this month by the North Island, from Auckland, a city dotted with dozens of small craters of volcanic origin.




First news: Francette and I found our dream home, and think about settling in this hobbit house that was used to shoot Peter Jackson's Lord of the Rings.

In the land of the Kiwis, pretty surprises, delicious gardens await us at every turn of the road (and roads, here, have lots of turns); at Ngatea water garden; in plantations where avocados are harvested on motorized nacelles.

At Cape Kidnappers, we found a colony of gannets very easy to approach, and watched couples hugging.

Farther offshore, we landed for the first time on the active volcano, White Island, in the sulphurous gases emitted by the crater with sparkling sulfur deposits.



In Napier, a real return to the past: in 1831, an earthquake destroyed the city, which was then rebuilt largely in the Art Deco style; an incredible variety of cars of the period takes visitors to admire the buildings of the time.

At Napier's very Art Deco theater, Les Misérables was scheduled : it had been produced by one of the guys who were at the origin of my success on Vogue records in 1966, Alain Boublil.

In the past thirty years, New Zealand has made a name for itself in the vineyard economy. Many areas offer tasting sessions, here at the foot of vast Te Mata Peak, a mountain that is said to be a sleeping giant.

On vast Lake Taupo, reached after passing the imposing Ruapehu volcano, we sailed on a small sailboat to magnificent Maori carvings carved in the rock of the shore. The only outlet of the lake is the Waikato River, which alone provides 15 percent of the country's electricity (45% more comes from the region's geothermal power plants)


Sur le vaste lac Taupo, atteint après avoir passé l'imposant volcan Ruapehu, nous avons navigué sur un petit voilier jusqu'à de magnifiques sculptures maori taillées dans la roche du rivage. Le seul déversoir du lac est la rivière Waikato qui fournit à elle seule quinze pour cent de l'électricité du pays (45% de plus viennent des centrales géothermiques de la région)

A Whangamomona, on nous a délivré des passeports émis par la fantaisiste « République » fondée dans cet hôtel ; parmi les récents détenteurs du titre de Président, une chèvre et un caniche...


Our last stop this month was the volcano we had not visited yet, giant Taranaki, over the beautiful city of New Plymouth.



In a few days we will return to Banana Split in Tonga, but we will come back in a few months to continue our journey in beautiful New Zealand.



We wish you a wonderful April


---
Previous letter | Next letter