September 2019
Hello everyone,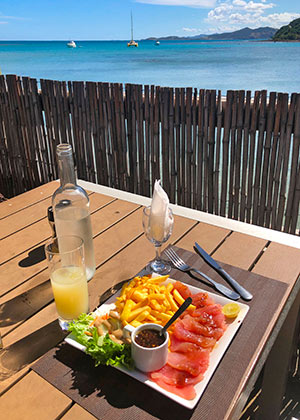 Flying back to France
August 8: After a last week in New Caledonia, in the beautiful bay of Kuendu (ultimate sashimi with Banana Split in the distance), then in the bay of Numbo to store Banana Split at the Carenocean shipyard, I took a flight of the airline with the cutest name on the planet, Air Calin ( air cuddle), destination Sydney, an absolutely beautiful city even if it is always under construction. I stayed there in an astonishing building amazing from its imposing porch; then another rather short flight to Auckland, where I always find nice places to stay in the middle of vegetation.



And then a crossing (air) over the Pacific, with a very brief stopover (40 minutes!) In Papeete, just long enough to change aircraft and board the spectacular Dreamliner. Next stop: Los Angeles, more exactly Manhattan Beach, a peaceful spot close to the huge airport and the big city; In front of the aquarium onthe "pier" of Manhattan Beach, a confrontation of dentitions.
In 1994 (yes!) I had seen - and loved - the first "Lion King" in Hollywood; a quarter of a century later I went to see (and I loved) the new version, especially as in the United States, one can enjoy a film a good glass of wine in hand. A fourth flight (that's a lot in a week!) Brought me to Francette at CDG, and we quickly hit the road towards Massif Central, where - although I have been spared the two heat waves of the summer - it was much hotter than in New Caledonia or Australia; I will not show you too much the desolate hue of the meadows surrounding our house, so parched that no sheep, no lamb frolick there this summer ... we wait for the rain impatiently, watching for the slightest cloud on the chain of sleeping volcanoes called Puys, trembling on the horizon ... it's almost like Arizona.

In a few weeks, we will leave again to continue filming in New Zealand, but in the meantime we savour the beauty of France; on the 18th we will be in La Rochelle for the launch of the renovated, Damien it was this sailboat that triggered my departure in the early 70s. We will also pay a visit to the place where works my daughter Vaimiti,, in a two star rated restaurant on the shore of the lake of Annecy. And we also plan a short visit to the south of Italy, to discover the Puglie, which I do not know yet ... I will tell you
Happy September
Antoine
---
Previous letter | Next letter