November 2019
Hello everyone,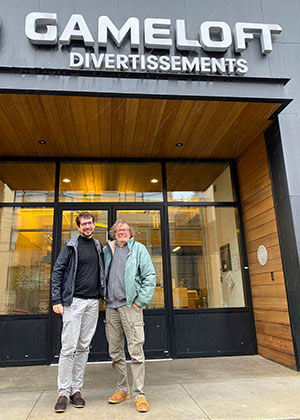 October 2019 for us did not lack colors !
The blue water of the Cave of Poetry in Apulia, Italy, then a week in Paris followed by a pas de deux among time zones: to visit my eldest son Manea, who creates video games in Montreal, we flew to Niagara Falls, then took the road through the state of New York, in the blaze of North American Autumn.
Two days in Tahiti, in the villa that our friend Bernard, after having sailed for a long time on his Pitcairn sailboat, was built on the heights of Punavai Nui.
A fifth and a sixth flight (that's a lot in a week) then took us to Auckland then Wellington, where we started a new shoot for the film and the book we will be dedicating next year to New Zealand:

First week in Wellington, in a great house in Aro Valley, time to visit the fabulous museum called Te Papa, the "Weta Cave" that pays tribute to the work of Peter Jackson (The Lord of the Rings, King Kong), but also to countless films whose special effects are made at Weta.
We also visited many botanical gardens for a chapter on the amazing flora of New Zealand, and discovered the "Pinnacles" that served as a backdrop to Lord of the Rings' "Return of the King" and then to the spectacular Cape Palisser where sea lions run smoothly.


And as this October comes to an end, here we are for a week in a small cottage surrounded by flowers, meadows with grazing horses, and vineyards in the Nelson area to visit Abel Tasman National Park. that go through kayaks and double canoes.
In November, we will cross the South Island to the Christchurch area, then we will admire the blooming lupines on the shores of glacial lakes of an improbable blue ... when I tell you that the colors are not lacking! Happy November! Antoine
---
Previous letter | Next letter