June 2020
Hello everyone,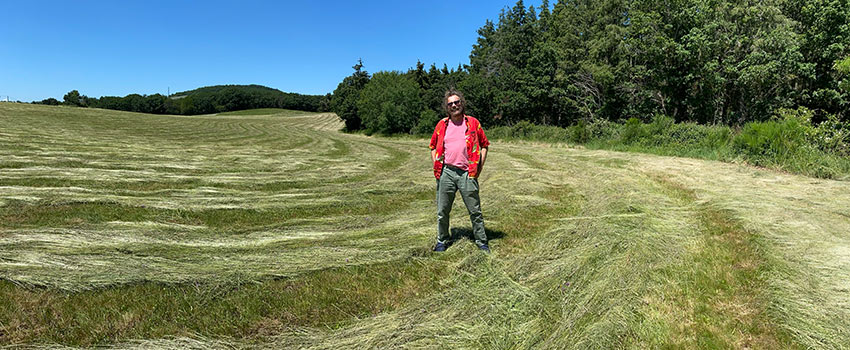 From the woods of Boulogne to the fields of Auvergne
After two and a half months near Paris, we are back in our home in Auvergne, without however keeping a bad image of these ten weeks spent in the north of Boulogne, in particular, thanks to the fact that Bois de Boulogne, in a rather unique way, has always remained open to beautiful walks, even when it was not allowed to move away more than a kilometer from home.

This district of Boulogne also had the privilege of having a good number of excellent food stores, and Francette, passionate about cooking, has been able to offer us daily wonders such as her Mousse de Chèvre with Fig Confit, her Crémeux de Pois with Mint, her Mozzarella Tomato on a bed of Basil Jelly and her magnificent Pavlova, the favorite dessert of New Zealanders. Banana Split, however, remains confined to his Australian marina, on peaceful Lake Macquarie - a sort of inland sea north of Sydney - seriously moored against the gusts of Australia?s winter months.
So here we are back in the region of Combrailles, in the Central mountains of France; in ten weeks the grass has had time to grow, so much that the lawn is 60 cm high, and our neighboring farmer has come to make hay: the hills are adorned with ephemera and aesthetic windrows ; as I write these lines, I can hear the farmer turning over the windrows ;as I write these lines, I can hear the farmer turning over the windrows ; she will a little while later come back to bundle up, before the downpours announced for this afternoon.
I wish you all, in France, Italy and elsewhere, a good deconfinement, albeit keeping your distances, and hope that the approach of summer sends this stupid virus away far from our green pastures. I wish you a happy June ! Antoine
---
Previous letter | Next letter