February 2022
Hello everyone,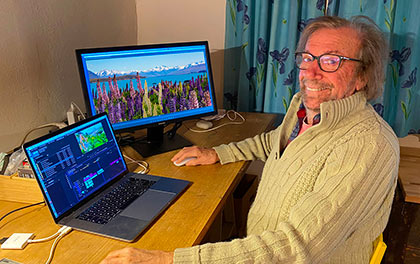 Busy January...
This month's letter will be short, because we are busy editing the film about New Zealand, which we hope to be able to show you in CGR cinemas in March-April
2022 started with a sunny New Year's Day, I took the opportunity to naturally accumulate some vitamin D (and even then, I put on shorts and a T-shirt for the photo!), and then the grayness came back, and the cows are looking for each other in the fog, We're holed up in our perched house, and I'm warming up with a traditional « chabrot ».
If this is confirmed, our tour should start in France?s Suth, from Provence to the Atlantic Pyrenees, with about twenty lectures. I will tell you more in our March newsletter. Maybe there will also be some news about the opening of the Australian borders...
Have a great February !
Antoine
---
Previous letter
|
Next letter