January 2019
Hello everyone,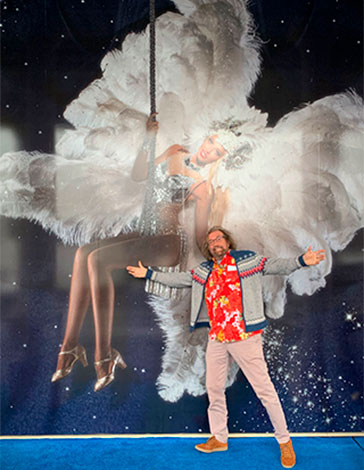 Happy New Year everyone


December was once again very animated, with more than twenty talks for Connaissance du Monde, between Bordeaux, Charente, Brittany and Normandy. Not far from Blaye, I was invited to the 30th anniversary of a travel agency, celebrated in an out-of-this-world place : lost in the middle of the fields, a huge cabaret-Music Hall of the kind that one would rather expect to find in a big city: l'Ange Bleu.


Périgueux, Cognac, Angouleme reminded me of my very first video-shooting journey, in 1991, the first stages of an 80-day round the world voyage by all means of transport; on the Charente, we stayed in a beautiful little private island.
In Royan, the rounded ceiling of the Zoetrope movie theatre confirmed what I often say at the beginning of each conference, that I feel like I'm taking the audience with me aboard a Boeing of which I would be the captain...

A Rochefort, j'ai tourné devant la majestueuse Hermione un petit salut à Osvaldo Bevilacqua, qui recevait à Rome le record Guinness pour le monde entier et tous les temps de l'émission de voyages a la plus grande longévité ; Sereno Variabile existe depuis 40 ans, et diffuse nos films depuis plus de vingt.

Once again, we only lightly touched Brittany, which still allowed me, not far from the banks of the Vilaine, from where I left in 1973 for my first solo cruise, to pay a visit the tomb of the great navigator (and my spiritual father) Bernard Moitessier, in the small cemetery of Bono. His tomb looks like him, adorned with bits of ropes, shackles and other nautical accessories left there by sailors he inspired.


And to end the tour, our annual gourmet splurge, a lobster at Roellinger's near Cancale ; a visit to the quays of Conflans-Ste-Honorine, the Mecca of French shipping ; and 3 lectures in the magnificent auditorium of Maison des Oceans, rue St Jacques in Paris.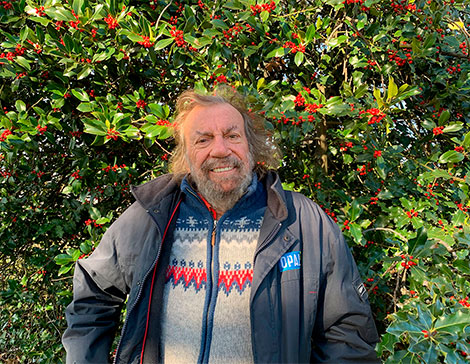 I write these words from the mountains of Auvergne, enveloped in thick fog, and without the slightest snowflake. Too bad, but what tranquillity!
One can dream of the Caribbean in front of a wood fire!


A little tranquillity, that's what I wish you all, at the beginning of this year.
See you soon
Antoine

---
Previous letter | Next letter