February 2019
Hello everyone,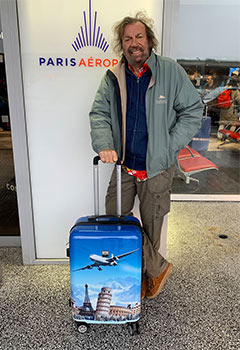 Thousands of homes
A new departure to the Pacific; I still took the time to visit the Basquiat exhibition, at the Louis Vuitton Foundation, I found (in the room dedicated to the collaborations Warhol-Basquiat), the banana dear to Warhol :he had filmed me in front of his painting, with Nico, eating bananas!)


In early January, due to abnormally high temperatures for the season ttrees had begun to bloom on the banks of the Seine ... They must bite the petals today, under the snow of Gabriel, which is far from an angel. Do not be angry with me, I write you this letter from the southern hemisphere. New Zealanders complain about the heat, but it's a very reasonable heat that suits me very well; the trees are in full bloom throughout the city of Auckland, where I have settled for a few weeks.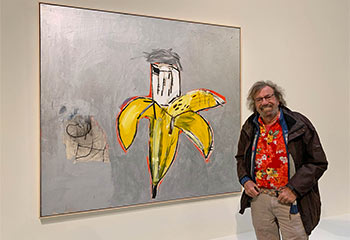 One day an American, a student perhaps, invented a software and a website to connect people who had a room, a sofa available, and travellers seeking to find accommodation in more humane and less expensive conditions than in the impersonal hotels of the big chains .. and it worked : going beyond simple "couchsurfing", AirBnB has became a huge company. Of course one can regret the fact that, like Google, Uber, Apple, Facebook, Twitter and Microsoft, all that comes again and again from America.

But what a change in our habits; it?s almost like owning a thousand homes throughout the world. For the past three or four years, we have hardly stayed in hotels, whether on a tour, of lectures, filming in far-off countries, with Francette or alone, we have taken to choosing among the many possibilities available in every city or countryside; one day I should tell the story of the places, the infinitely varied encounters that come from this recent institution.


Of course, one is not always safe from a surprise; arriving in the new apartment booked here, I said to myself, "Among the dozens of temporary rentals I've taken, I've never had a big disappointment ... it'll happen to me one day, no doubt" ... I was warned that works in the street and in the house could worry me ... but when I crossed the barrier and opened the door of the small apartment, I fell in love at once, especially for the magnificent view extending under my window.

Auckland drowned in exuberant and colourful vegetation.
As for my guests, they are exceptional: Joyce Campbell is a photographer, she exhibits in many galleries, from New Zealand to Los Angeles; Jon has a passion for music, and in a room adjoining my studio, 18,000 vinyls 33 rpm are arranged on large shelves, with several guitars, including a pedal steel, a kind of Hawaiian guitar.

In a few days, I will discover another flat, also drowned in vegetation on the flanks of Mount Hobson, in the periphery of this city that I like; I take advantage of these days of calm to study a thick History book of New Zealand: in a few weeks, Francette will join me, and we will devote several months to shoot a new film and make a new photo album on this country.

I wish you a month of February feverish with desires, and the happiness of realizing some of them.


Kia ora

---
Previous letter | Next letter