June 2019
Hello everyone,
Kingdom of Tonga, Vanuatu : a journey through time


It's been hard to leave the quiet and perfectly sheltered little port of Nuku'alofa - on which the sun had finally come back - with its line of fishing boats, its polynesian canoes paddlers training every morning; the picturesque little town, its cafes and restaurants, t Friends, the Waterfront; its market and its stalls of fruits in the four corners of the city (delicious papayas, peanuts just out of the ground, but avoid the green beans, which measure sixty centimeters long, and are endowed each with two cables which could support a cable car...

Not insignificant, the city also has technical resources of any kind net : a friendly mechanic thoroughly revised my engines. At the time of replenishing the boats stores, the search for things as simple as some ham led me to the shop of a friendly Italian settled here for twenty years, and a fan since the time of "Pietre" and San Remo : he allowed me to leave well equipped in specialties of his country.

And then good weather pushed me to cast off, heading west. 250 miles farther, I let myself be tempted by a tiny atoll whose existence I had been aware of for a long time, without having ever approached it, North Minerva Reef : a coral belt at the water's level, circular, a well-defined pass , absolutely no islet above water, but a perfect shelter from the ocean waves. I went in, dropped anchor ... and I did well, for in the following twenty-four hours rose a strong wind, a wind which periodically returns to the Pacific...
In the next three days, twenty other sailboats came to take shelter in the atoll, the time that the wind and the of four meter waves to pass. I would have liked to film you with my drone this meeting of vagrant sailboats, but far too much wind for that, you'll have to be satisfied with the display of my radar and the picture from Googlemaps. The atmospherewas nice, in any case via VHF, because conditions were hardly conducive to the launching of dinghies. A sympatic Russo-Australian could still come and reconnect my radar to his antenna, thank you Ponya.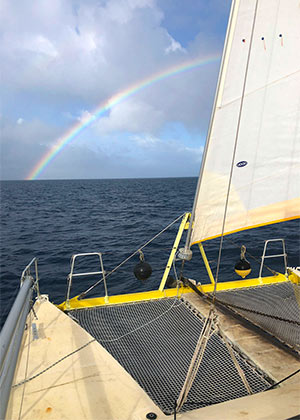 A week passed, and good weather came back: I headed for Port Vila on a sea once again smooth. At the time of writing, I have just moored in this other small port, which I visited in 1995, not on Banana Split, but aboard the large Club Med II sailing yacht. I am docked in front of a few little pubs; here as in Tonga, I have the impression of having made a trip back in time, to have found the waterfront of Papeete of the 1970s, at the time when Bernard Moitessier moored his Joshua and Tabarly his Pen Duick. It is here that I celebrate these days my three quarters of a century. I will tell you the spot in more detail in my next letter.
In the meantime, I wish you lots of joy in June.
Antoine
---
Previous letter | Next letter