February 2020
Hello everyone,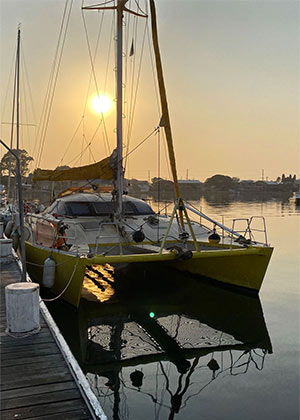 Pictures for January...
Leaving Sydney earlier this month, we returned to the beautiful inland sea called "Lake Macquarie", a body of salt water accessible only via a shallow canal, which requires the opening of a road bridge. Once inside, it's a bit like an atoll,in Polynesia: still calm waters, with dozens of natural anchoring spots, but also a quantity of amenities, marinas, shops, quiet neighborhoods where you sometimes come across... kangaroos. But also medical resources ... which led me to note that I had to come back a little earlier than planned in France for a small elbow surgery.

We therefore left Banana Split at anchor, and set off again for the metropolis, with a few days stopover in New Zealand, small pilgrimages to the volcanic sites that surround Rotorua, or to the Coromandel peninsula, a good morning to the gannets of Muriwai, close to the beautiful city of Auckland, where we were lucky enough to be able to lodge on the seafront, not far from the picturesque Ferrys terminal.


Via San Francisco rather than Asia (to avoid the coronavirus epidemic), we therefore returned to Paris, where we are also tackling the preparation of the major conference tour that we will be carrying out in CGR cinemas in March in 25 cities in the southern half of France. Come and meet us there to party, in pictures and music, in the most beautiful Caribbean islands:


- The Lesser Antilles (Guadeloupe, Saintes, Marie Galante, Martinique, St Martin, St Barth, but also English-speaking islands like Grenada, the Grenadines or Antigua)

- Also the "Greater Antilles", ithe Dominican Republic, Cap Haitien, Cuba, and in other less known places of this immense archipelago with infinite diversity of landscapes, cultures and traditions: Curaçao, Cartagena and the island of Providencia (Colombia), without forgetting the San Blas Islands, the paradise of the Kuna Indians.

So come in March to discover this immense archipelago with us... In the meantime, I wish you a beautiful month of February Antoine
---
Previous letter | Next letter